Welcome to HardHatTags.com
Add a Little Personality to Your Hard Hat.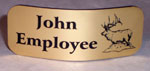 We use a laser to create custom plastic tags that personalize your hard hat, and help keep it with you. The adhesive we use makes sure the tag NEVER separates from your hat, so losing your hat due to theft or other means isn't as much of a problem.
The material we use is UV resistant and will hold up under all but the harshest conditions. We have several color combinations you can choose from, as well as numerous overlays such as copper, silver, and gold. If you need to wear a hard hat as part of your safety equipment, why not customize and personalize it.
What We Can Do
There are no limits to what we can do. We specialize in tags, but we also design things such as company logos, sports logos, clipart, borders, stickers, badges, even desk and door name plates. We can do anything your imagination wants.
Bulk orders are no problem either.
If you are a company that needs to get that corporate identity on your Hats we can do it in short order.
Explore Our Site
Feel free to browse our site. You can request a sample using the form on the side, or send us an
order
request. If you have any
questions or comments
let us know, we love to hear from our customers.
Thank you for visiting, and your business.